FARM SHOW 2017
AUGUST 16th & 17th
Mark your calendars!!!!!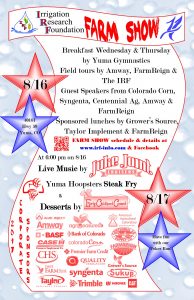 PLEASE CLICK ON IMAGES TO ENLARGE
There are many people and companies that we would like to thank for getting everything ready for the Farm Show;
Thank you to our 2016 Corporate Sponsors!

Agri-Inject, AgriMeasures, American Agricultural Laboratories, Amway, Bank of Colorado, BASF, Case / Farmer's Implement, Centennial Ag Supply Co., CHS, Colorado Corn, CPS, First Farm Bank, Grower's Source, Northstar Bank, Premier Farm Credit, Syngenta, Wagner Equipment, Wilson Trailer
AND THEN THERE IS THE INCREDIBLE FOOD!
Steak Fry Dinner by the Yuma Hoopsters
and
Dessert by the Yuma High School Dance
2016 Farm Show Photos
2016

2015

2014

2013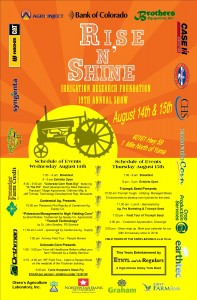 2012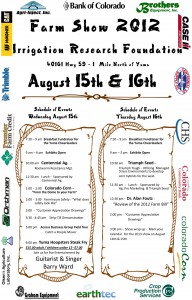 2011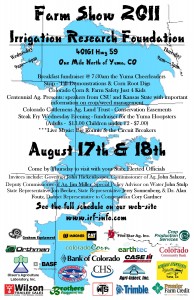 2010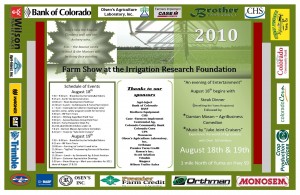 2009
RETURN TO THE  WELCOME PAGE


40161 Highway 59
Yuma, CO 80759
970-848-3043
email us at info@irf-info.com